The first time I caught Mr 1 wiping his nose no my tea-towel, I was both amused and grossed out. Sadly, it wasn't the last time that happened, which always makes me wonder, "what has my tea-towel been doing today?"
Playing boo?
Wiping a child's head?
Being a superman cape?
Wiping the floor?
Being a floor cushion?
Assisting a child to slide on the floor?
Wiping a nose?
Lying, sad and abandoned, on the floor?
Returning home, with the assistance of a 1 year old?


My tea-towel provides much entertainment for Mr 1 (and you'll be pleased to know that I do wash it, A LOT!).
Do you know what your tea-towel has been doing today?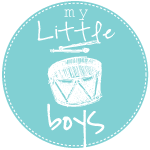 Wordless Wednesday